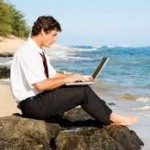 Renato Sabbatini
Com o auxílio da tecnologia, dentro de alguns anos, no máximo em uma década, a necessidade da presença física no local de trabalho deixará de ser importante na maioria das empresas, nas universidades, e até mesmo em hospitais. A razão para isso é que a  telepresença, a realidade virtual, a banda ultra-larga da Internet e a ubiquidade de sua presença em todo o planeta, a TV digital interativa, e outras tecnologias que nem conhecemos ainda, vão revolucionar totalmente as relações de trabalho. E essa revolução já está em andamento, como mostram as estatísticas.   De fato, um estudo publicado em 2008 indicou que o nível de tele-emprego está aumentando dramaticamente nos EUA (índice de 39% em apenas dois anos) tendo passado de 12,4 para 17.2 milhões de postos de trabalho. O mais interessante é que 61% das pessoas consultadas disseram que concordariam até com uma redução salarial se pudessem trabalhar a distância.
Querem alguns exemplos?
Um radiologista americano que conheci, morava em um subúrbio distante de New Jersey, tinha que pegar o trem ("commuting", como eles dizem lá), todo dias as 5 da manhã e viajar para o hospital em Manhattan onde trabalhava, voltava à noite, estava quase se divorciando, por não conseguir mais ter contato diário com a família, estressadíssimo, enfim. Ai recebeu a proposta de atuar no plantão noturno do serviço de radiologia de vários hospitais espalhados pelos EUA, a distância. Quem fez a proposta foi uma empresa de prestação de serviços (detalhe: 90% dos radiologistas dessa empresa trabalham em Sidney, Australia, que obviamente tem o fuso horário totalmente invertido em relação aos EUA). No caso dele, queriam a experiência e a sub-especialidade rara dele (neuroradiologia).
Pois bem, pra encurtar a história, hoje ele vive felicíssimo, em uma bela fazenda do interior do estado de Montana,. "Entra" no trabalho as 5 da tarde (plantão leve, noturno, com poucos casos), dá todos os laudos imediatamente, por meio de um link de satélite, pelo qual recebe as imagens em alta resolução, e "larga o trabalho" à meia noite. Anda de cavalo o dia todo, cuida da horta, brinca com as crianças e os cachorros, etc. E ganha mais do que no emprego antigo….
Há melhor defesa do teletrabalho do que essa? A carta que ele publicou numa revista especializada de radiologia ("Diagnostic Imaging Magazine") foi a que mais recebeu comentários de colegas até hoje. Todas do tipo: como eu faço pra conseguir essa boca pra mim também?
A empresa se chama, apropriadamente, NightHawk (aguia noturna). e fica numa cidadezinha perdida no extremo norte do estado rural de Idaho, Coeur d'Alene (já ouviu falar?). Outra tendência para empresas de alta tecnologia. Para quem se interessar, leia o artigo: "Physician Survey Shows Teleradiology Helps Improve Patient Care and Quality of Life for Radiologists"
Ainda na minha área, mais de 90% dos transcritores de prontuário médico (geralmente mulheres, que conseguem decifrar as letras dos médicos e digitam as informações em uma versão eletrônica dos mesmos, por obrigação legal para os hospitais americanos) trabalham em casa. Enfermeiras que prestam serviços de tele-enfermagem doméstica para pacientes idosos ou que não podem sair de casa, também.
Dou também meu próprio exemplo. Eu sempre morei no interior do estado de São Paulo, primeiro, onde estudei, em Ribeirão Preto (a faculdade fica numa belissima fazenda, com lago e bosques, vejam as fotos que tirei), e depois, onde nasci (Campinas), atualmente em um bairro tranquilo, no limiar rural (meu vizinho é uma fazenda, e da minha varanda vejo sempre os boizinhos pastando pacificamente, em meio a pinheiros e imensos eucaliptos centenários).
Mesmo assim, tenho uma conexão à Internet por TV a cabo, de 8 Megabits/seg, meu próprio equipamento profissional de videoconferência, etc.  Portanto, uma boa parte da minha atividade diária é por meio de teletrabalho. Faço reuniões simultaneamente com vários dos meus subordinados em meu instituto, dou consultorias em hospitais e universidades distantes (como em Rondônia), e até mesmo ministro frequentemente aulas de pós-graduação ou cursos de extensão para todo o Brasil, a partir da meu posto de teletrabalho em casa.
Só fico estressado quando tenho que ir para São Paulo, a apenas 100 km de distância, mas o que tento evitar o máximo possível. Como diz aquele comercial de TV, isso não tem preço! Quem sabe no futuro megalópolis como São Paulo deixarão de tão cruciais para a economia de um país?
Uma das minhas atividades principais atualmente, que é a educação a distância, certamente será uma das que mais crescerá, em paralelo com o teletrabalho. Não apenas os professores poderão dar aulas de qualquer lugar do mundo onde se encontre, como os alunos também estarão dispersos. Uma meta-análise feita recentemente pelo Ministério da Educação dos EUA descobriu que o ensino superior a distância é mais eficiente do que o ensino presencial em uma série de quesitos, inclusive quanto à extensão e profundidade do aprendizado pelos alunos, e o tempo dedicado aos estudos.
Os novos equipamentos de videoconferência baseados em telepresença e realidade virtual estão atingindo graus incríveis de realismo nas interações humanas. Até mesmo coisas que a gente via só no seriado "Star Trek", como holografia, já estão sendo desenvolvidas e experimentadas. As pessoas que usam essas tecnologias para fazer reuniões ou dar aulas estão passando pelo que os especialistas americanos denominam de "suspension of disbelief" (suspensão de descrédito), ou "being-there technology"). Veja este vídeo sobre telepresença e mais este, sobre videoconferência por projeção em 3D, para ter uma idéia.
O impacto do teletrabalho sobre a sociedade, a economia e as relações familiares será gigantesco.  O aquecimento global favorece o teletrabalho, pois ele contribui muito menos para a emissão de dióxido de carbono. Os custos e o tempo de deslocamento caem verticalmente, tanto para as empresas quanto para os empregados. Os congestionamentos do trânsito, a exposição à criminalidade nas ruas, o alto estresse psicológico causado pelo caos urbano nas pessoas, a produtividade individual, tudo será beneficiado com o aumento dos postos de teletrabalho. A única coisa que realmente precisa mudar é a cultura empresarial de controle sobre os empregados, que ainda é do século XIX…
Para Saber Mais